Roblox is played by about 213 million monthly users and more than 20 million daily users, according to the game's statistics website activeplayer.io. It is one of the most popular gaming platforms in the world, allowing players to create their own games and interact through chats within maps, to stimulate imagination and creativity – as the games are called. However, while they are in favor of socialization, conversations also facilitate communication with strangers, expert opinion, something of concern, especially for children.
"Children can play with several adults at once, they have this interaction, and that's where the problems come from," noted Kelly Angelini, a law and digital education consultant and speaker. He said conversations could take place through text, voice and even private chat, and many children reported being scolded and insulted during games. Kelly also highlights a feature that allows the player to write a specific message in a kind of thought bubble. "There are games that allow text in avatars. If a player writes something with a sex signal there, it will be visible to everyone, no way ", he noted. In addition, children are at risk of accessing games with inappropriate themes, for example, nudity, sex or scenes of violence." There may be games, including shootings, murders and fights, although the platform blocks a lot of this content for minors ", the consultant commented.
Among the games that are most popular among children, there are such options Mip City, Which features custom floating pets; The Work at Pizza Place, Where the challenge is to manage a pizzeria; Or curious Accept me!, Where it is necessary to choose between being a father or a child and surviving every day for these roles. Although the classification indicates the use of games over the age of 10, minors of this age can register without any restrictions.
Frequent players on the platform, Mariano, 8, and his older brother, Miguel, 12, have already been contacted by strangers during conversations on the app's map. When he was 10, Miguel gave his login and password for his game account to a teenager who told him he was a YouTuber who was going to record a video about the game and needed his data. Once on the account, the teenager changed his password and registration email and used all his "RoboX", a virtual currency that allows him to shop on the map. The price was not high, but it bothered the boy.
"Before giving the password, he came to talk to me and I warned him that it was not true, not to believe that his account could be stolen, but he went there and did it anyway," said mother Alain de Oliveira Favreiro. After the incident, Miguel could no longer access his account until his mother spoke to the alleged YouTuber via an external game chat application. "I got involved, I started saying I was going to the police station and the guy tried to intimidate us, said he lived in the mountains, in Rio de Janeiro, but in the end he returned the bill."
Last year, Alain's other son, Mariano, was also tricked into a game with pets, where temporary exchanges of pets are common. "She has a habit of exchanging everything with her friends on the basis of trust in her game and has ended up handing over her pets, which was rare. There was no other way, the player disappeared and my son was very upset, "said the mother, who lives with her family in Prudentopolis (PR). She says she advises her kids not to trust virtual friends, with whom they only communicate through platforms. "Even if there is someone they always play with, I say if the person wants an account password or something else, they need to talk to us. And they're more intelligent. I've seen them comment that they wanted passwords but they didn't. "
Spending on the virtual currency "Robox" is another issue that parents need to pay attention to. Children like the idea of ​​using avatars and choose the characters, costumes and accessories that represent them. However, the most comprehensive products are provided. "When they see their friends with a shield, for example, the child must want to get one, which encourages use in games", adds the consultant.
To avoid such issues, Kelly recommends that parents configure the constraint options available on the platform. "With age it is possible to configure settings, there are some features that children cannot access, for example, voice chat, which is only allowed for those over 13 years of age," he commented. With expert help, we've outlined some precautions below to ensure greater safety for children on the platform.
The right age
When registering your child, please enter the correct age. The platform has restrictions that are automatically activated for children under 13 years of age.
Control of those responsible
In the user settings, in the "Parental Controls" section, it is possible to set a series of restrictions, such as age-appropriate content access, monthly spending limitations, and notifications of these costs. Defining these limitations to the child and explaining to them why they are disabling text chat, for example, is a way to avoid contact with strangers, to help them understand these limitations and to accept them more easily.
Digital Mars
On the Roblox website, the "Digital Wellness" section provides general online safety advice and explains all the control possibilities and restrictions that parents can enable. These include how to view child activity on the platform, how to report violations, and how to block users. Click here to learn more.
During use
With endless game options, when they enter the platform, kids no longer want to stop playing, leaving promises and games aside. To avoid overeating, it is important for children to understand that they need to balance playing time with their daily activities such as school, homework, meals, sports, etc. Experts suggest, for example, that children dedicate time to play at the same time, i.e., 30 minutes to play, 30 minutes to play, for example.
Robox costs
Looking at other players, including special costumes, shields and accessories, your child will probably want to get them too, which will require in-app purchases. For example, there are 40 Robox packages for R $ 2.90 and 1,700 Robox packages for R $ 109.90. Once the transaction is done, the card data is stored on the platform and there is danger. To avoid fear of invoicing, it is important to talk to the child about in-app purchases so that they do not use the card without parental approval and let them know when they are going to buy something.
Family game
Kids love it when their parents show interest in what they are doing. It's also worth playing a game with your kids to better follow the activity, create an account in the app, and understand the universe of RoboLux and what are the platform's biggest risks for kids.
Open dialogue
Faced with an unpleasant episode on the platform, the child should feel comfortable to tell what happened to the parents. To do this, the child should not be given the opportunity to talk about the game and should not be threatened or punished in the face of the problem that arises.
Whistleblowing channel
When observing any inappropriate behavior, it is possible to report inappropriate messages or content in the chat through the Roblox website and the in-game reporting system, allowing players to be removed, blocked or punished as they see fit.
---
Also read: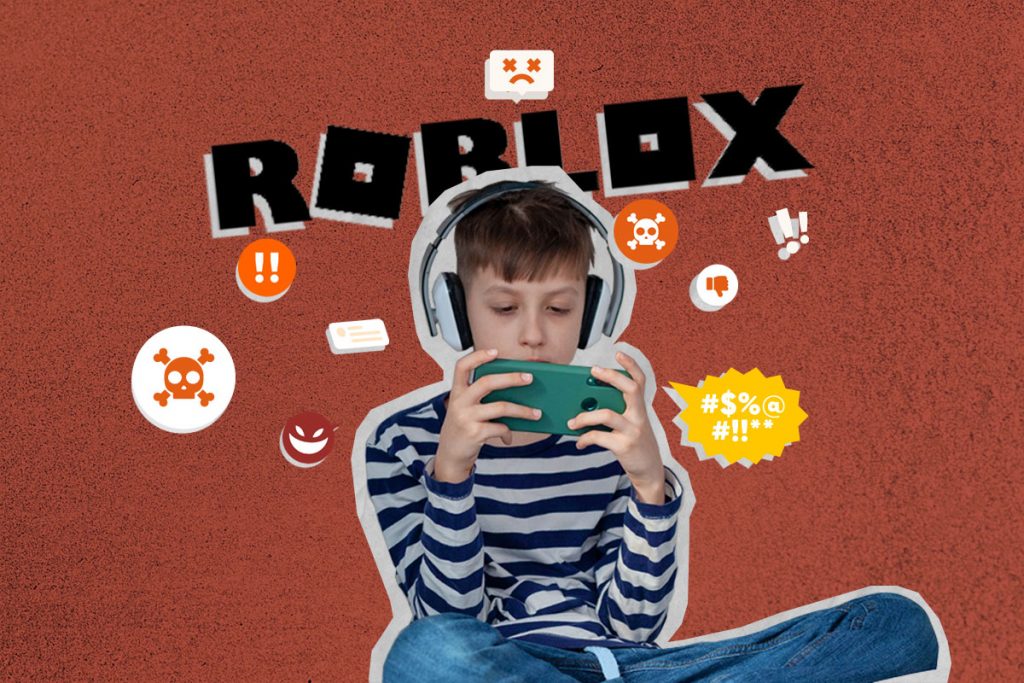 ---