The more turmoil, the better. This is the recipe of Zaire Balsonaro. It stems from the need to direct and lead the political debate in times of crisis failure – with six out of ten voters rejecting it.
He did this during the two years of the epidemic. It is still in a state of uncontrolled prices due to the increase in energy, fuel and food.
Conflicts with the Federal Supreme Court are as rhetorical as ever. So far he has not failed to comply with any court order.
In September, he announced that he would no longer accept, but when he realized the cost of studying illegally, he backed down.
Last week he pardoned a friend using power, pen and official gazette, a deputy sentenced to eight years and nine months in prison for crimes against democratic rule and death threats to judges and their families. He did exactly what he accused the opposition to do, using tactics within the law to use the presidency for personal political gain.
Yesterday, he went to an agricultural fair and announced that he would like to "ignore" the STF's possible decision on demarcating tribal lands if it did not like him or his friends and allies supporting his candidacy in agriculture. Economic zone. It does not define the practical application of the verb "neglect" in the STF sentence, which does not define anything in indigenous lands. For the sake of political expediency, he spoke of things that did not exist and fascinated the rural audience.
Candidate Bolsonaro's problem is not in the case of deputy friends or in the expansion of agricultural borders in tribal areas. In this situation, of course, he does not already cast a single vote without a single vote. But they are effective in dusting off the campaign and creating a cloud of real drama that keeps him trapped in record rejection and still stays away from his opponent Lula, the leader of the voting motive.
Since the onset of the epidemic, government dissent has remained at over 55%. Similarly, presidential-candidate rejection has remained widespread and endless.
In a poll released yesterday, 57% of voters reaffirmed that they would not vote for Bolsonaro "in any way". The FSB / BTG poll, conducted between Friday and Sunday, had 2,000 interviews, already echoing the new conflict with the Supreme Court, where Bolsonaro listed the defense ministry in a coordinated move with retired military clubs.
The tone of rejection of government, presidential and re-election candidates is given mostly by women and the poorest, whose monthly family income does not exceed the minimum wage (R $ 1,212) and who spends almost entirely on subsistence food.
Among female voters, the government (56%) was considered "bad" and horrible. Among the poorest, rejection of the way Bolsonaro rules is irresistible (76%).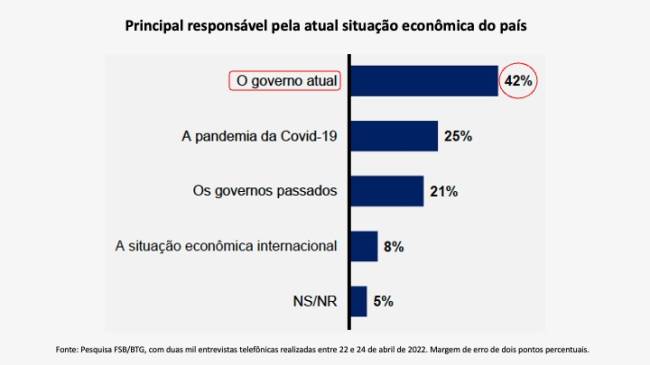 In the mood of the electorate, pessimism (up to 62%) prevails with the prospect of overcoming an economic crisis that has made everyone poorer – Brazilians' average income fell 9% last year.
The government cannot satisfy voters who insist on affordable food and energy, employment, education, security, and rising incomes. The re-election candidate chose a more comfortable option for campaign troubles. Whether it will work until October, he doesn't even know, but he continues to explore chaos as a political tool.