Claudio Souza
Social support editor for citizens
It's Mother's Day, but the gift is for the whole family. The municipality of Sao Jose Dos Campos this week began distributing 1,065 kits, including children's books, to families (children ages 0 to 3) included in the Kryanka Feliz program.
Each kit contains 20 books and a tracking track game. For each book read by family and children, one goes ahead until the cycle is complete.
The Criança Feliz team will monitor the progress of the project through weekly inspections.
The component is a pilot project created through a partnership between the Ministry of Education and the Ministry of Citizenship, part of the Conta Prime Program.
Sওo Jose is the only city in the state of Sওo Paulo to have adopted a pilot project. In all of Brazil, there are only 27 municipalities, one in each state and one federal district.
This is another work of national literacy policy. The purpose is to promote family literacy, encourage oral language learning, read and write in a family environment, and promote coexistence between parents and children.
By interacting with their children, talking and reading aloud, parents help them develop four basic skills through simple and fun techniques: listening, speaking, reading and writing.
Family literacy is associated with children's learning, enjoying special moments of affection and family joy, playing with books.
Children grow up in homes where parents promote family literacy and become better readers and more successful students.

Sao Jose is the only city in Sao Paulo that has participated
Good seeds
Residents of the Villa Dass Flores neighborhood in the southern region, 2-year-old little Ethan and 4-year-old Noah, were delighted to receive 20 books during a visit by a team of program professionals this Friday morning (6).
But when the boys' eyes sparkle, the happiest is because of unemployed Jacqueline Santos Takashi Azevedo. For her, the gift she received on the eve of Mother's Day was a planted seed that would bear fruit for her children's future.
"Congratulations to City Hall for distributing these kits. It's a seed planted for my kids' lives. Developing reading habits when they are young will always help them," said Jacqueline.
"Whenever they want to give a gift to my kids, I say toys and clothes are nice and welcome, but the best thing for them is books. Today, we've got 20 books. It's a very happy moment and a great gift. For the whole family. Our Family. "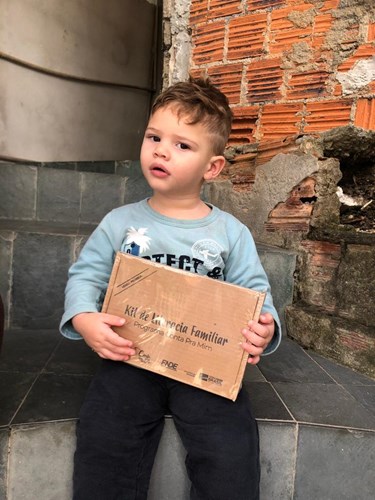 The kit consists of 20 children's books
Family fun
The delivery of a children's book kit to 1-year-old and 7-month-old Maria Vittoria turned out to be an event for her entire family this Friday morning.
She lives in the eastern Jardim Sao Jose, with her parents and siblings Gabriel, 7, Anna Vittoria, 9, and Maria Eduarda, 12.
Immediately, all three received from their mother, housewife Patricia Vicente Dias de Souza, 30, a mission to help the youngest to read a book.
"It was a great gift, the best I could get on Mother's Day this Sunday. We were all so happy because it would be so good for Maria Vittoria. .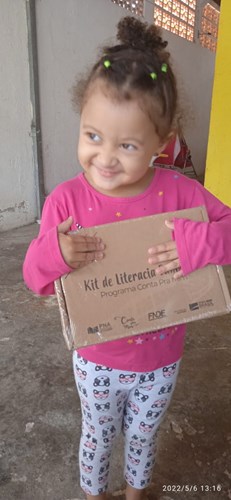 Reading: Seeds for the future
The world is changing
Aparesida Vanda Ferreira e Silva, coordinator of the Kryansa Feliz program in Sao Jose, highlighted the importance of the initiative, initiated by the Ministry of Education.
"Knowledge of family literacy practices and their application by those responsible for caring for children at an early age will have a positive effect when they reach literacy," said Vanda, a career worker at the Secretariat for Social Support to Citizens.
"These kits will encourage coexistence between parents and children and contribute to the future of these children, who will become better students and better citizens with these seeds planted now," he added.
After all, Pakistani activist Malala Yousafzai, who just won the Nobel Peace Prize at the age of 17, said in her fight for human rights and access to education that "a book, a pen, a child and a teacher can change the world."
More news
Social support editor for citizens
.